Carmen & Rafaele is a fashion company that cover everyday wear "T-shirts and glad rags" range and the "C&R special edition" brand
They specialise in bringing high definition pictures and art onto fabric and ultimately clothing  manufactured in quality factories in the UK. Their  guarantee is that all "Special Edition brand" clothing is "Made in England".
Wordpress Web Development
Wordpress Plugin Customization
Responsive Web Design – Site customised to view in landscape & portrait mode on phones, tablets & desktop
E-Commerce Web Design
Paypal Payment Gateway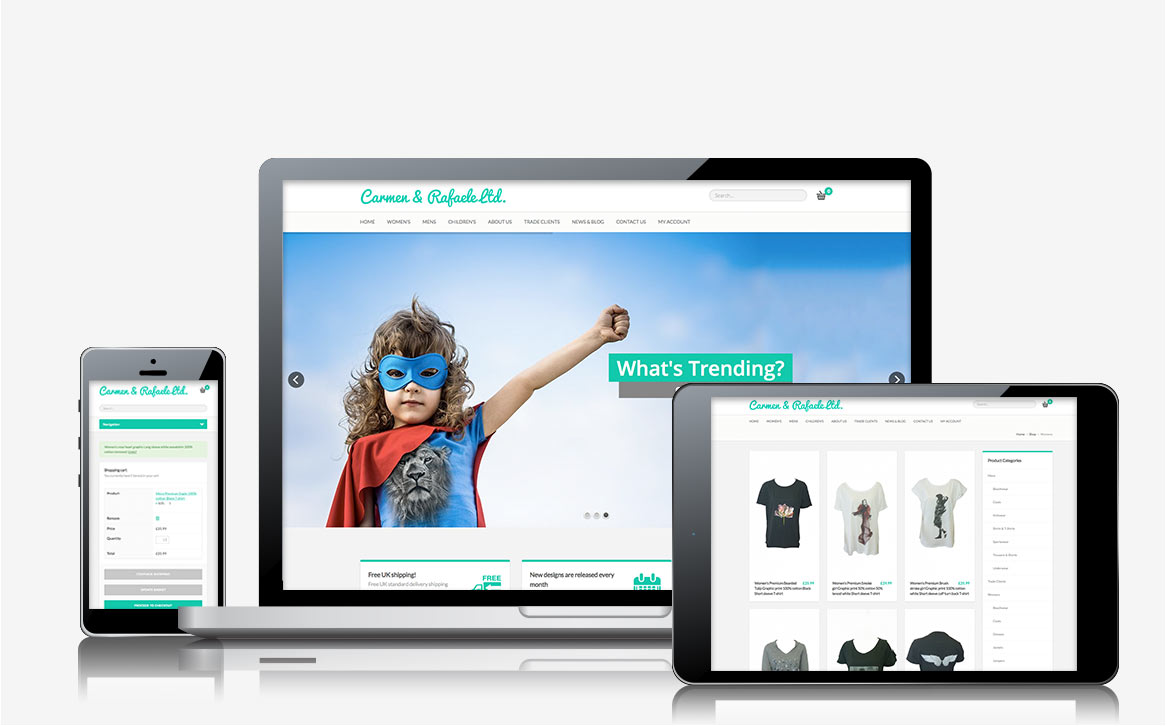 GOAL
Setting a high standard in fashion clothing for women, men and kids they wanted an e-commerce web design that was simple elegant and versatile. The site had to be easy to maintain and had to have the flexibility to easily add new products and create a brand recognition. As a startup e-commerce store they dabbled in creating stores with shopify and other platforms before they came to us.
THE STORY
We created a site that not only paralleled a custom built e-commerce site but also allowed an easy admin and with WordPress the ability to expand easily. We built the site with a lot of detail to attention and used custom plugins and widgets to modify structure so that Carmen & Rafaele could get the brand style they sought.
E-COMMERCE WEBSITE
The shopping area is maanged by WooCommerce plugin and allows users to buy directly from the site using credit cards or Paypal. Shipping and tracking is also provided for customers in United Kingdom.
RESULT
A rich e-commerce site build on WordPress. It was the right solution for a startuop ecommerce company into apparel and fashion. It allows users to quickly see items on display – the 2D animated module allows users to interact with each product and see it from 3 different angles. Very useful when you are selling fashion products.
anemptytextlline

Bahamas Wedding Venue Wordpress website (SEO optimized)

anemptytextlline

WordPress Sites

anemptytextlline

Australian Import-Export Website (SEO Optimized)

anemptytextlline

Australian Insurance Website

anemptytextlline

E-Commerce Site

anemptytextlline

E-Commerce Site

anemptytextlline

WordPress Sites
I have ordered 5 if not more things and each and every time these guys display high professionalism, understanding of customer's needs and most of all great communication – which these days is a missing component in any business. If you are looking for quality then this is the agency for you! A+++++++++