Based in Laurencville Hair MD Salon thrives to create a professional, welcoming and friendly environment that accommodates every women's hair and tanning needs. With over 10 years' experience they have 12 stylists that offer a variety of services to make a woman feel beautiful.
They also carry a wide variety of products including TIGI, BEDHEAD, Catwalk, Juvexin Global Keratin and Moroccan Oil. A team of experts help every customer decide what service fits their needs.
Wordpress Website Development
Wordpress Plugin Customization
Web Design Singapore
Responsive Design – Site customised to view in landscape and portrait mode on phones, tablets and desktop
Youtube Video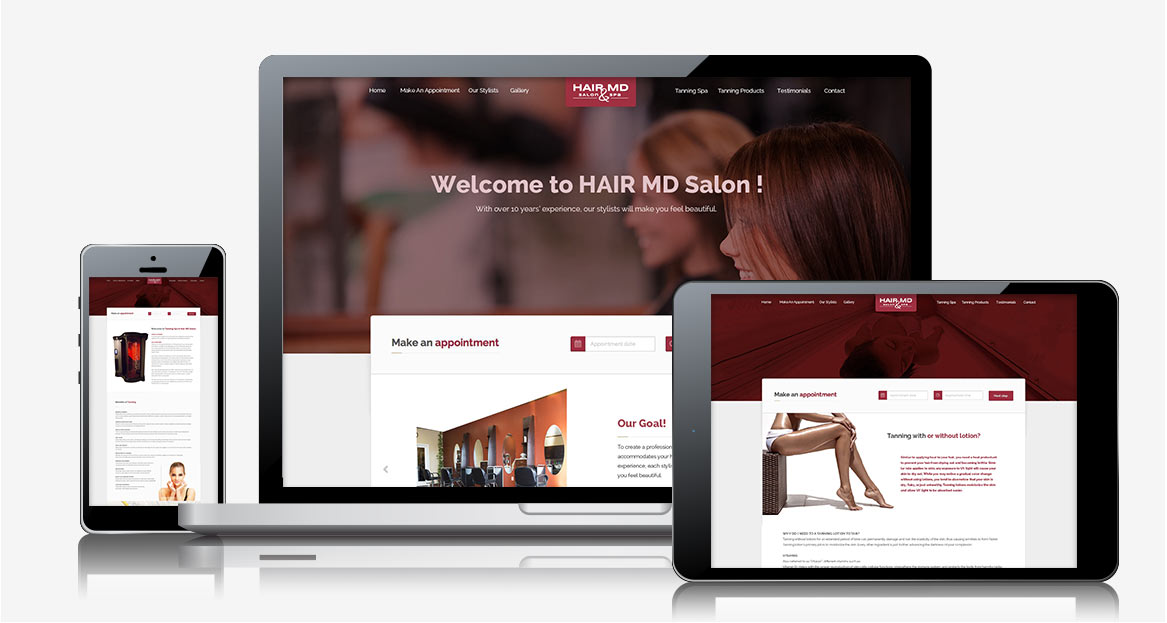 GOAL
To create a website for a family operated business and tell everyone how in 10 years of serving clients at their HairMD Spa and Salon they now had a site that would be updated with the latest client photos and also profile of the stylists. We had to create a site that would make the client look professional and show how successful and trustworthy the Salon has been. Since the site needed traction we had to create content that matched SEO needs.
THE STORY
They had previously developed a site with a local developer. The site lacked the professional look and feel for the kind of audience they were appealing. Even the content was laid out haphazardly and needed a complete restructuring.
When we started designing the site the main goal was to use WordPress and keep the cost down. Selecting a theme that allowed HairMD Salon to look professional and at the same time allow our SEO team to optimize it for maximum results. Since this was a 10 year old company there were a lot of testimonials which we wanted to highlight to build and reinforce a strong presence of how everyone in the locality loved getting their hair styled at the Salon and also how relaxing the Spa services were.
Since the old site lacked the look and feel to show how big and professional they were as a Salon and Spa we had the challenge to make this a site that would last the test of time.
RESULT
For our Design and Development team the keywords were clean and simple. Let the photos, testimonials and content shine and encourage interaction. The homepage, gallery and the services pages allowed users to see what they could find at HairMD. The gallery showed real hair styling that were done with their clients. We created a stylishly modern digital WordPress site, incorporating design elements that encourage interaction and discovery.
anemptytextlline

Healthcare, USA Wordpress website (SEO optimized)

anemptytextlline

Financial Recruitment, Toronto Wordpress Site | SEO

anemptytextlline

UK Bestselling Author Wordpress Site | SEO

anemptytextlline

Australian Import-Export Co. Wordpress Site | SEO

anemptytextlline

Australian Photographer Wordpress Site

anemptytextlline

IT Consultants, UK Wordpress Site | SEO

anemptytextlline

Software Technology, USA Wordpress Site | SEO

anemptytextlline

Gas & Energy Sector Wordpress Site | SEM | SEO

anemptytextlline

Property Developer, Australia Wordpress Site | SEO

anemptytextlline

Hair Salon & Spa Wordpress Site | SEO

anemptytextlline

European Union Project Wordpress Site | SEO

anemptytextlline

Education & Learning, USA Wordpress Site | SEO