Most businesses who "export" are not really in the exporting business. What their success actually depends on is designing, manufacturing and marketing of their products. The back-room hassles of getting their goods out of the country and collecting payment is not their forte.
Now they can benefit from the care, skills and experience of Import-Export Services by letting us look after all the exporting hassles.
Wordpress Website Design
Web Design Australia
Responsive Website Design
SEO Analysis, SEO Audit
SEO Agency in Singapore
SEO Marketing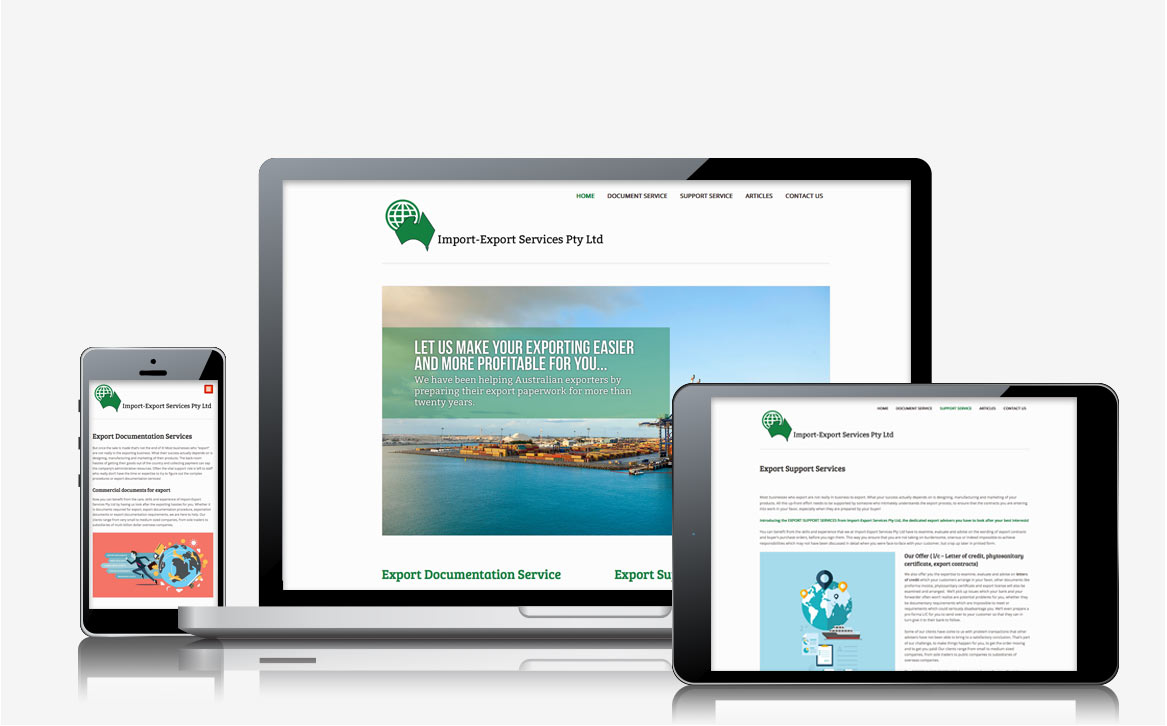 GOAL
Import-Export Services Pty Ltd, Australia wanted a clean and minimalist site. Users of this site are primarily decision makers in the shipping industry with years of experience. They value the content more than any fancy visuals.
We were asked to create a simple yet appealing site that visually targets the end user. Clients range from very small to medium sized companies, from sole traders to subsidiaries of multi-billion dollar overseas companies. They are seeking for THE professionals in preparing export documents; liaising with transport operators such as freight forwarders and freight brokers, shipping companies; banks etc. The website should be the solution to all their issues in exporting.
THE STORY
We discussed with the client the need for a simple approach to create an informative yet structured website. The client was also keen on SEO and hence we suggested a sitemap that would allow users to find information on different pages based on their requirement.
Understanding it from an industry perspective we created a site that is responsive and allows users to find all the information they need with a clear navigation. We also included the profile of Mr. Ronai who is the chief executive of the company and has years of experience in this industry. The site now boasts of content that is not only informative but also SEO friendly. It serves the need for users who organically search for various keywords using Google.
SEO & GOOGLE RANKING
We optimised the site with the right keyword research and made sure that the Australian (and Singapore) target audience would find the site for major keywords in export document preparation. The site was also optimised for content by placing the right keywords on pages, description, canonical links, rich snippets were all added to make this site found organically on Google or any other search engines. The simplicity of the site also allowed it to load quickly on low bandwidth speeds if needed.
RESULT
The Exports website already has 6 keywords listed in pages 2-6 on google and 1 keyword ranked on the first page of Google Australia. All this was achieved with proper optimisation of pages and in just 3 weeks.
The site also has had some fair reviews of how it looks much more cleaner and corporate than the earlier website. We will soon be planning an adwords campaign to promote the site to users outside Australia.
anemptytextlline

Healthcare, USA Wordpress website (SEO optimized)

anemptytextlline

Financial Recruitment, Toronto Wordpress Site | SEO

anemptytextlline

UK Bestselling Author Wordpress Site | SEO

anemptytextlline

Australian Import-Export Co. Wordpress Site | SEO

anemptytextlline

Australian Photographer Wordpress Site

anemptytextlline

IT Consultants, UK Wordpress Site | SEO

anemptytextlline

Software Technology, USA Wordpress Site | SEO

anemptytextlline

Gas & Energy Sector Wordpress Site | SEM | SEO

anemptytextlline

Property Developer, Australia Wordpress Site | SEO

anemptytextlline

Hair Salon & Spa Wordpress Site | SEO

anemptytextlline

European Union Project Wordpress Site | SEO

anemptytextlline

Education & Learning, USA Wordpress Site | SEO
I have ordered 5 if not more things and each and every time these guys display high professionalism, understanding of customer's needs and most of all great communication – which these days is a missing component in any business. If you are looking for quality then this is the agency for you! A+++++++++