The COHERENT project is funded by the European Commission and is one of H2020 5G-PPP projects . It aims to research, develop and showcase a unified programmable control framework for 5G heterogeneous radio access networks.
The project focuses on three innovations in control and coordination of 5G networks:
Software defined networking for radio access networks, to enable a scalable and flexible control and coordination framework.
Well-defined control interfaces and protocols to greatly simplify the management of heterogeneous mobile networks
Flexible spectrum management, supports different spectrum access schemes, including but not limited to, Licensed Shared Access, License Assisted Access, and flexible duplex networks.
Wordpress Website Design
Web Design Australia
Responsive Website Design
SEO Analysis, SEO Audit
SEO Agency in Singapore
SEO Marketing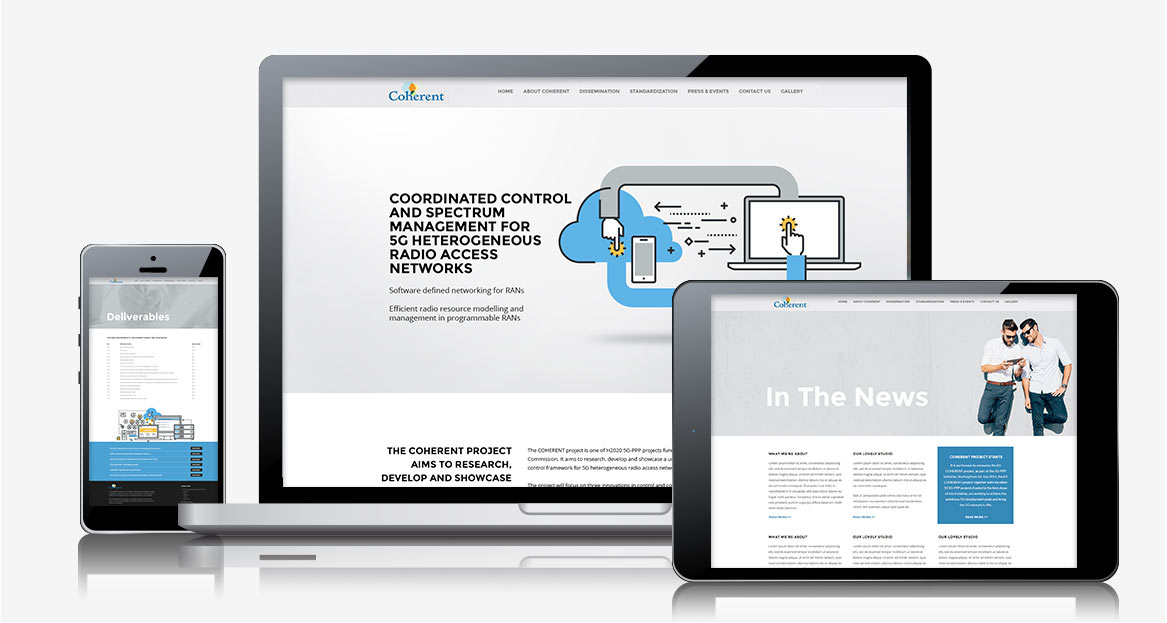 GOAL
Coherent EU wanted a clean and minimalist site. Since this was a EU Commission project the website catered to targeted users who value the content more than any fancy visuals.
We were asked to create a simple yet appealing site that visually targets students, institutions and clients who were interested in network and computing.
THE STORY
We discussed with the client the need for a simple approach to create an informative yet structured website. The client was also keen on SEO and hence we suggested a sitemap that would allow users to find information on different pages based on their requirement.
Understanding it from an industry perspective we created a site that is responsive and allows users to find all the information they need with a clear navigation. We also included the profile of the entire team who has years of experience in this industry. The site now boasts of content that is not only informative but also SEO friendly. It serves the need for users who organically search for various keywords using Google.
SEO & GOOGLE RANKING
We optimised the site with the right keyword research and made sure the main target audience would find the site for major keywords in frameworks for heterogeneous radio access network. The site was also optimized for content by placing the right keywords on pages, description, canonical links, rich snippets were all added to make this site found organically on Google or any other search engines. The simplicity of the site also allowed it to load quickly on low bandwidth speeds if needed.
RESULT
The Coherent website already has 6 keywords listed in pages 2-6 on google and 1 keyword ranked on the first page of Google. All this was achieved with proper optimization of pages and in just 3 weeks.
The site also has had some fair reviews of how it looks much more cleaner and corporate than the earlier website. We will soon be planning an adwords campaign to promote the site to users all over EU.
anemptytextlline

Healthcare, USA Wordpress website (SEO optimized)

anemptytextlline

Financial Recruitment, Toronto Wordpress Site | SEO

anemptytextlline

UK Bestselling Author Wordpress Site | SEO

anemptytextlline

Australian Import-Export Co. Wordpress Site | SEO

anemptytextlline

Australian Photographer Wordpress Site

anemptytextlline

IT Consultants, UK Wordpress Site | SEO

anemptytextlline

Software Technology, USA Wordpress Site | SEO

anemptytextlline

Gas & Energy Sector Wordpress Site | SEM | SEO

anemptytextlline

Property Developer, Australia Wordpress Site | SEO

anemptytextlline

Hair Salon & Spa Wordpress Site | SEO

anemptytextlline

European Union Project Wordpress Site | SEO

anemptytextlline

Education & Learning, USA Wordpress Site | SEO
I have ordered 5 if not more things and each and every time these guys display high professionalism, understanding of customer's needs and most of all great communication – which these days is a missing component in any business. If you are looking for quality then this is the agency for you! A+++++++++