Tasmina Perry the internationally acclaimed author of novels including Kiss Heaven Goodbye, The Proposal and Private Lives required an online presence that spoke volumes about her books and herself. Her books have been translated into 17 languages and sold over 2 million copies worldwide.
Custom WordPress Development
Wordpress Website Builder
Responsive Website Design
Wordpress Blogs UK
Local SEO Services
SEO Guarantee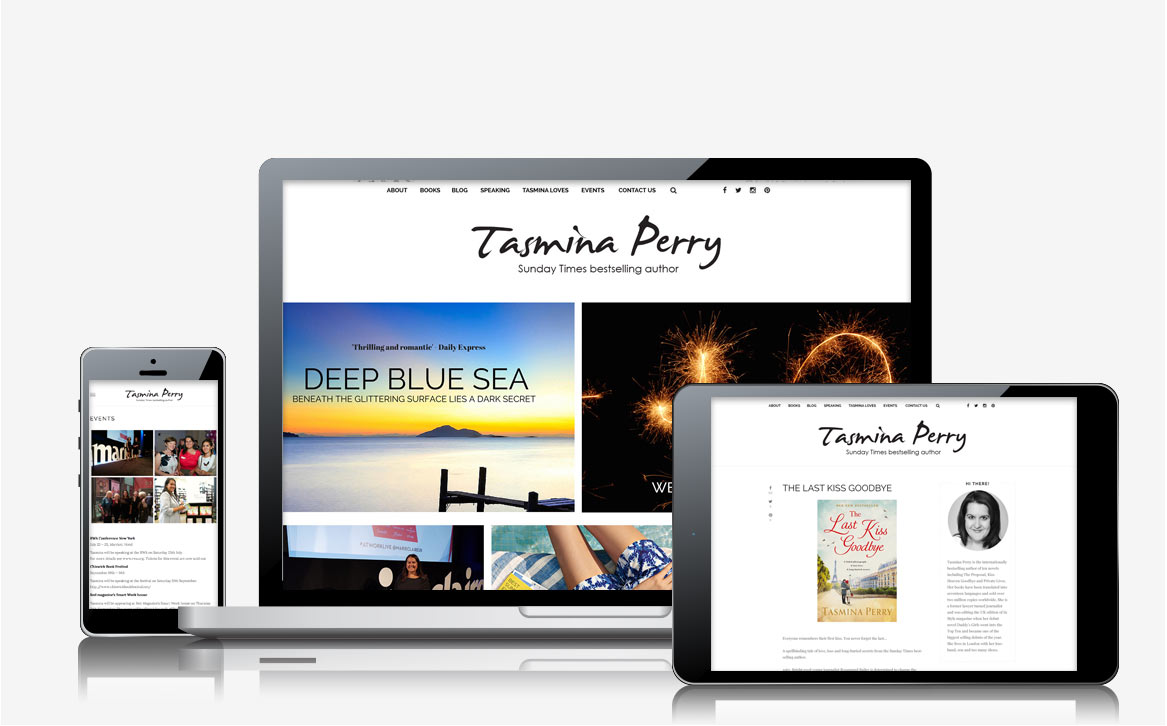 GOAL
Tasmina needed a site that talked to her audience. Visual appeal was the most important and it had to tell the public what she had done so far and what she is doing next. Whether its writing a new book, signing at a book launch, events she organised or the next public speaking seminar she was going to conduct.
The site had to allow her Instagram & twitter feeds to be visually displayed. Very important for her PR and also to let the audience connect with everything she was doing, writing, hosting or speaking about. The site also had to allow her to update content regularly on her own and she wanted advice on even where to host the site so there is no down-time ever (99% that is )
THE STORY
We decided to use a blog theme. Something that made it more personal than showing off as if she were a corporate entity with a rigid business website. The theme we selected had all the features she sought and also had large visual displays where she could flaunt the cover of her new book or post photos/images that inspired here new blog article.
One of the best things about Tasmina was the fact that she knew exactly what she wanted. She knew how the website should look and choice of theme was entirely hers. She even described in detail most of the pages which was amazing for us. It let us make the improvements that were needed to just take the design a notch higher than usual. Some amount of custom coding on the theme gave her the flexibility to add the Instagram posts without much ado.
RESULT
Its been a writers delight to use this site we created. She keeps updating the site regularly for the past 5 months since the site was completed. Without a single complaint.
We also notice that using the blog theme has allowed the site to more user friendly and shows off on organic searches very easily. Its a simple yet visually entertaining site that allows a writer/blogger to advertise her skills.
anemptytextlline

Healthcare, USA Wordpress website (SEO optimized)

anemptytextlline

Financial Recruitment, Toronto Wordpress Site | SEO

anemptytextlline

UK Bestselling Author Wordpress Site | SEO

anemptytextlline

Australian Import-Export Co. Wordpress Site | SEO

anemptytextlline

Australian Photographer Wordpress Site

anemptytextlline

IT Consultants, UK Wordpress Site | SEO

anemptytextlline

Software Technology, USA Wordpress Site | SEO

anemptytextlline

Gas & Energy Sector Wordpress Site | SEM | SEO

anemptytextlline

Property Developer, Australia Wordpress Site | SEO

anemptytextlline

Hair Salon & Spa Wordpress Site | SEO

anemptytextlline

European Union Project Wordpress Site | SEO

anemptytextlline

Education & Learning, USA Wordpress Site | SEO