Westside Insurance Specialists based in Kwinana, Australia is part of Insurance Advisernet Group specialising in insurance solutions that meet the needs of small-to-medium sized businesses. They deliver insurance that provides wide-ranging protection for businesses in all industry sectors for property, business interruption, liability, glass breakage and general property.
Wordpress Website Development
Wordpress Plugin Customization
Responsive Web Design
Logo Designer Australia
Corporate Identity Design Australia
Web Designer in Singapore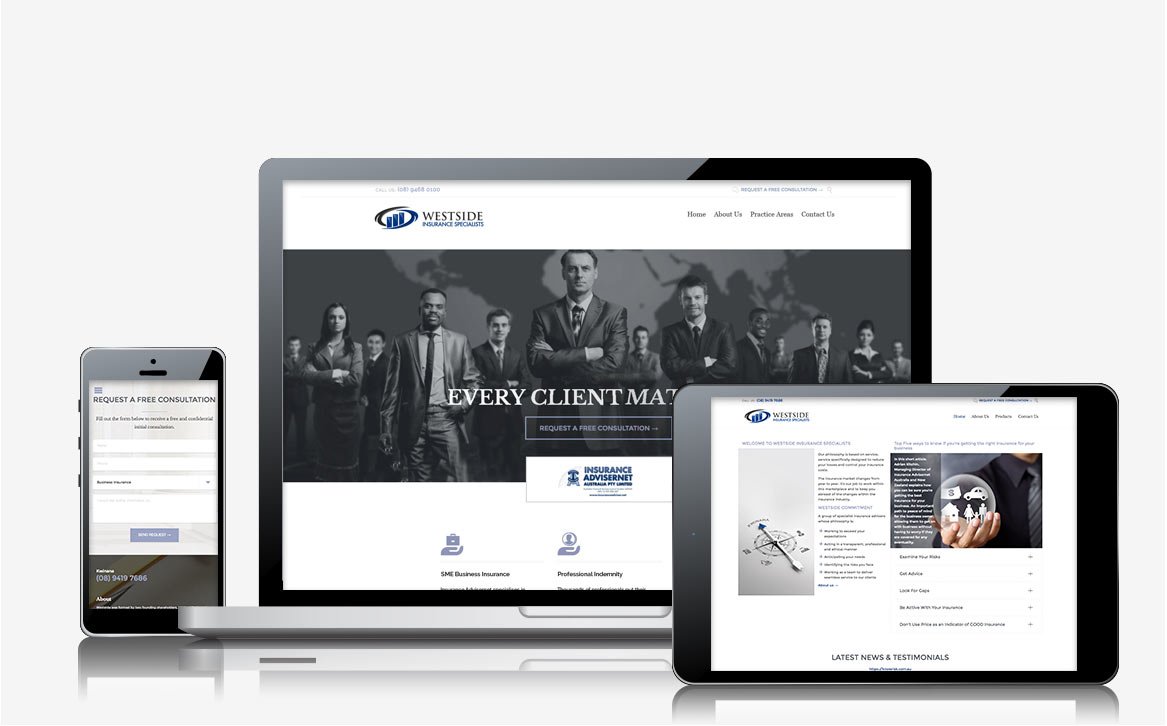 GOAL
Create a unique website that stands out from the competition. Users who research for insurance and land on the new Westside website and should look twice. Though the information is similar to what their competitors do  users should realise with the new site that we mean business.
Westside had also moved to a new office so the website was part of the entire campaign we did which also involved redesign of their business cards, brochures, novelty items like mousepads and coasters and their ad campaign. So the need to tie in all this was important from a branding perspective. We achieved this beyond and more than the clients expectations. Please call us or write to us to show you the before and after samples. The new samples of the design can be seen by clicking the links in the text above.
THE STORY
The client budget for the website was tied in with all the other branding and print collaterals they were doing with us. We decided to use WordPress because it had the right theme we were looking for and was also easy to maintain and cost-effective.
Content was written by the client but some headers were redone by us to match the visuals we chose for the site. It has an animated slider used on the homepage to show the USPs of the client. Colour scheme of blue, greys and beige were part of the entire branding effort. Images were selected by us and client was so excited to see the new look they purchased an entire months subscription of stock photos for us to choose from for all the products we designed.
RESULT
The reviews we got from both the directors Gail and Michael speaks for itself. They can be found in our testimonials. It completely gave them the adrenaline shot in the arm so to speak. Business has been much better – 18% increase in just 1 month of launch. The advertisements we did pulled in a lot of corporate inquiries to the website.
Its been one of our landmark projects since we tied in the entire branding and web tomato this work to the clients advantage.
anemptytextlline

Bahamas Wedding Venue Wordpress website (SEO optimized)

anemptytextlline

WordPress Sites

anemptytextlline

Australian Import-Export Website (SEO Optimized)

anemptytextlline

Australian Insurance Website

anemptytextlline

E-Commerce Site

anemptytextlline

E-Commerce Site

anemptytextlline

WordPress Sites