westside + tony fences
WESTSIDE Insurance Specialists were opening their new office in Kwinana, Australia. They had been in business for 50 years and this was to mark the fact that they still care for every customer and would like to be branched out and close to them. The ad had to tell their clients that we are now right beside you.
Tony Sharp was a fence consultant in a very saturated and highly competitive market. He needed an USP to sell himself and perch him above the many others in the field. He wanted us to make him sit above the fence!
Corporate Branding
Print Design
Advertising Design & Graphics
Ad Campaigns
Magazine Advertising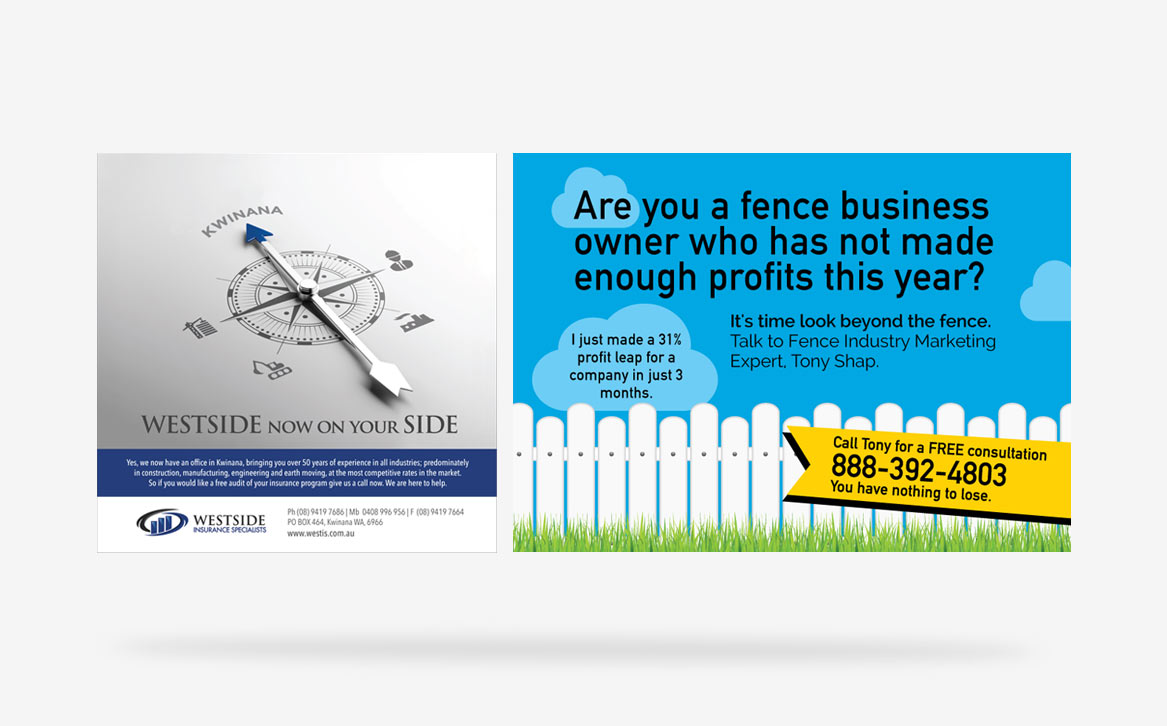 WESTSIDE INSURANCE SPECIALISTS
Based in Australia and practicing for over 50 years, Westside had a reputation as an industry leader insurance specialist in all industries; predominately in construction, manufacturing, engineering and earth moving and at the most competitive rates in the marke.
Now they wanted to branch out and their first step was to go closer to their business. Be right beside their main clients. They were moving to Kwinana, Australia and they wanted to make sure everyone, including their clients knew about it. We kept it simple and to the point. 'WESTSIDE by your SIDE'
The client was so happy. We completely redesigned their website, and also did all their brochures and office stationery for them. It was one of the best re-branding exercise for us and are proud of our work.
TONY FENCE CONSULTANT
Tony had a business as a fence consultant that had been profitable for years. He now faced stiff competition with a lot of new entrants and also fence laying stores offering their own. He wanted to tell people that it takes more than just being a new fence consultant to make yourself profitable. He wanted to tell them that his advice would save them costly dollars.
The ad was straight to the point. We did the copywriting work and came up with the headline and copy for the advt. The visual had to be simple because of size constraints. Overall the ad performed and did the job. He received at an average 5 new customers a day for the month the ad ran in the local magazine.
anemptytextlline

Advertisement

anemptytextlline

Advertisement

anemptytextlline

Newspaper Advertisement

anemptytextlline

Magazine Ad Campaign

anemptytextlline

Advertisement

anemptytextlline

Magazine 1/2 Page Advertisement

anemptytextlline

Magazine Advertisement

anemptytextlline

Advertisement
Rocketriver is SUPERB!!! They created a website that has far & beyond exceeded my expectations. Despite my very limited knowledge of website he was able to understand what I was looking for and delivered a site I am excited to share with the world! I am truly happy with their hard work! I totally recommend!!!