kingsbridge + antiques + misc
THE IDEA: Kingsbridge home healthcare service the best home care on this side of town. We want to make choosing homecare simple and convenient while providing a peace of mind that your loved one can remain independent in their home. Come to us and we will make sure you and your loved one are cared for like royalty in your palace
Corporate Branding
Print Design
Advertising Design & Graphics
Ad Campaigns
Magazine Advertising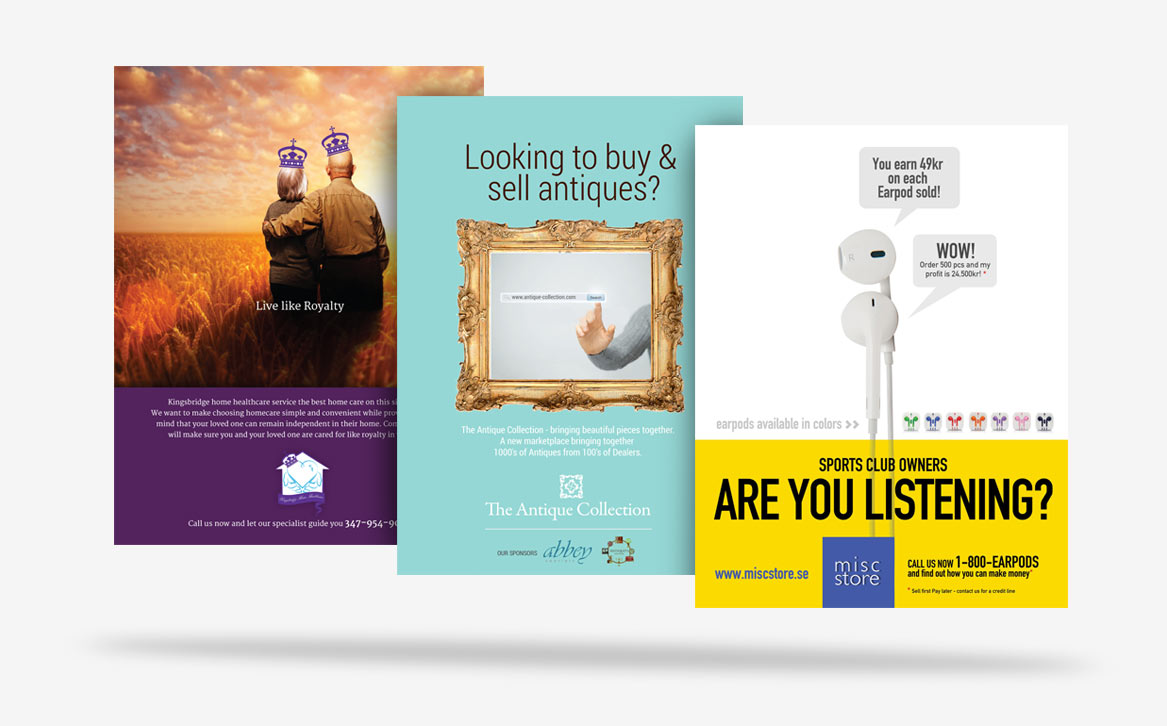 Kingsbridge Ad
The client had done few other adverts for magazine and newspaper insertions before they came to us. They wanted an ad that would speak volumes of their expertise in old age healthcare. Having been in the business for a few years they seem to have not had the advantage of creating an advt that branded them as a unique healthcare agency.
On a low budget they consulted us initially for just concepts and a pitch. What we decided was a fairly simple concept. Use the word King from Kingsbridge to reinforce the name and image. And finally when we found the right image of an elderly couple looking out into the horizon we got creative. Looks cheeky at first glance but using the crown from their logo was just apt. It proved that we do take care of the old as kings and queens.
Very good response to the advt and since then they have run it in a few other publications as well.
The Antique Collection
The client came to us wanting an ad created out of nothing. They had an online store and were only doing EDMs and regular word-of-mouth advertising. Since they needed more customers to know of their online presence they were looking for ideas for a single magazine advert.
The concept of using an antique frame to represent a browser window was conceived by our team in just one day. The execution and final a/w was another day of work (with a few revisions) The client enjoyed working with us and vice versa. So within just a couple of days they had an advert that bought them good results.
Misc Store
This Swedish company was already selling earpods on a regular basis. They suddenly had this affiliate opportunity with a Sports Club and wanted to cash in on this association. Promote the same idea to other club owners. The idea was to offer bulk prices to new club owners where they could profit selling earpods to their regular or new members.
We created a very direct ad concept. We yelled at the club owners and asked them to listen to us (selling earpods – a listening device is good business). Buy and stock at ridiculous low prices and sell it individually to your members for a good profit. Visually using the earpods itself to drive home the message worked very well too.
anemptytextlline

Advertisement

anemptytextlline

Advertisement

anemptytextlline

Newspaper Advertisement

anemptytextlline

Magazine Ad Campaign

anemptytextlline

Advertisement

anemptytextlline

Magazine 1/2 Page Advertisement

anemptytextlline

Magazine Advertisement

anemptytextlline

Advertisement
I have ordered 5 if not more things and each and every time these guys display high professionalism, understanding of customer's needs and most of all great communication – which these days is a missing component in any business. If you are looking for quality then this is the design team for you! A+++++++++