redmark + jovan +toolkit
Most investment for early-stage life science companies is the result of savvy marketing, not sales. RedMark Communications helps your company develop and communicate compelling value propositions to attract capital and grow.
Jovan Dentists are a clinic that wants to put the smile back on your face. No more ugly or yellow stained teeth. Toolkit is slowly growing to be a well-renowned software for schools in New Zealand. They needed an ad to tell everyone how good their product was.
Corporate Branding
Print Design
Advertising Design & Graphics
Ad Campaigns
Magazine Advertising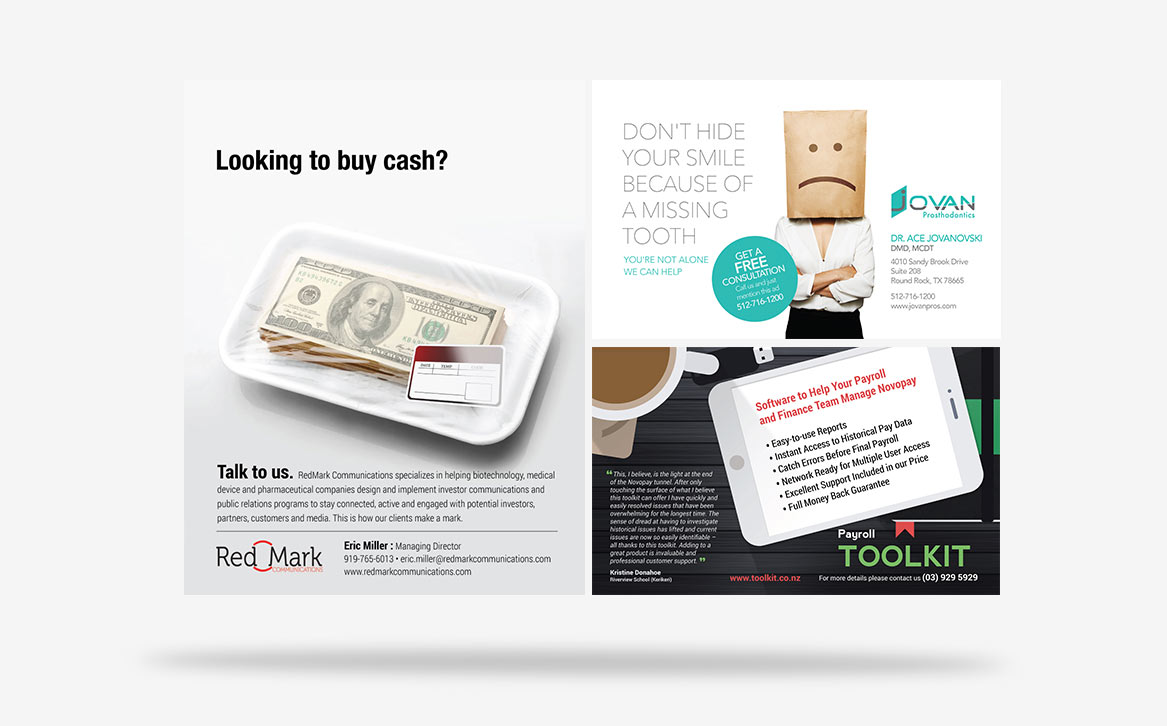 REDMARK COMMUNICATIONS
They needed an ad that would be different. One that would make users look at it twice for its visual content that would then grab the attention of the reader to find out what they were all about.
They wanted to tell entrepreneurs that if they were looking for cash to fund their next project they need to rethink their value proposition. If they already had one Redmark would help them to finetune it and communicate better with angle investors.
JOVAN DENTAL CLINIC
Dr. Jovan had done ads that were very direct. Always showing before and after results. Just like everyone else. Their message was fairly simple – if you have a missing tooth, yellow stained ones or crooked teethline then we can get it fixed for you. We will put the smile back on your face!
We designed a simple clean ad with a sad face and a paper bag on an elderly woman. It was also their main target audience. The ad did so well for them that even after 6 months they use it as a print ad and also in the social media as a post.
TOOLKIT
This was an accounting software that managed only Payrolls. Dedicated to its niche audience it was already popular in New Zealand schools and institutions. To reinforce their image as a reliable and productive software we designed this ad to target new users. A clean cut ad that showed the device with the highlights and a solid testimonial to support it was conceived completely by us. Again we did not want to deter visual space for anything fancy since we were talking to an older audience who liked to read the facts. Toolkit did see a rise in 15% of new orders after the release of this ad.
anemptytextlline

Advertisement

anemptytextlline

Advertisement

anemptytextlline

Newspaper Advertisement

anemptytextlline

Magazine Ad Campaign

anemptytextlline

Advertisement

anemptytextlline

Magazine 1/2 Page Advertisement

anemptytextlline

Magazine Advertisement

anemptytextlline

Advertisement