Toolkit Newspaper Ad
THE IDEA: We had already created an ad for Toolkit previously which talked about the key features. After this we build a testimonial ad that showed users direct messaged from customers who were already using Toolkit in their daily lives. The new ad was to reinforce all this and more in a full page newspaper ad. This ran in Auckland and helped the client get a lot of new inquiries. After this ad's success we have not had to spend anymore on large scale advertising.
Corporate Branding
Print Design
Advertising Design & Graphics
Ad Campaigns
Magazine Advertising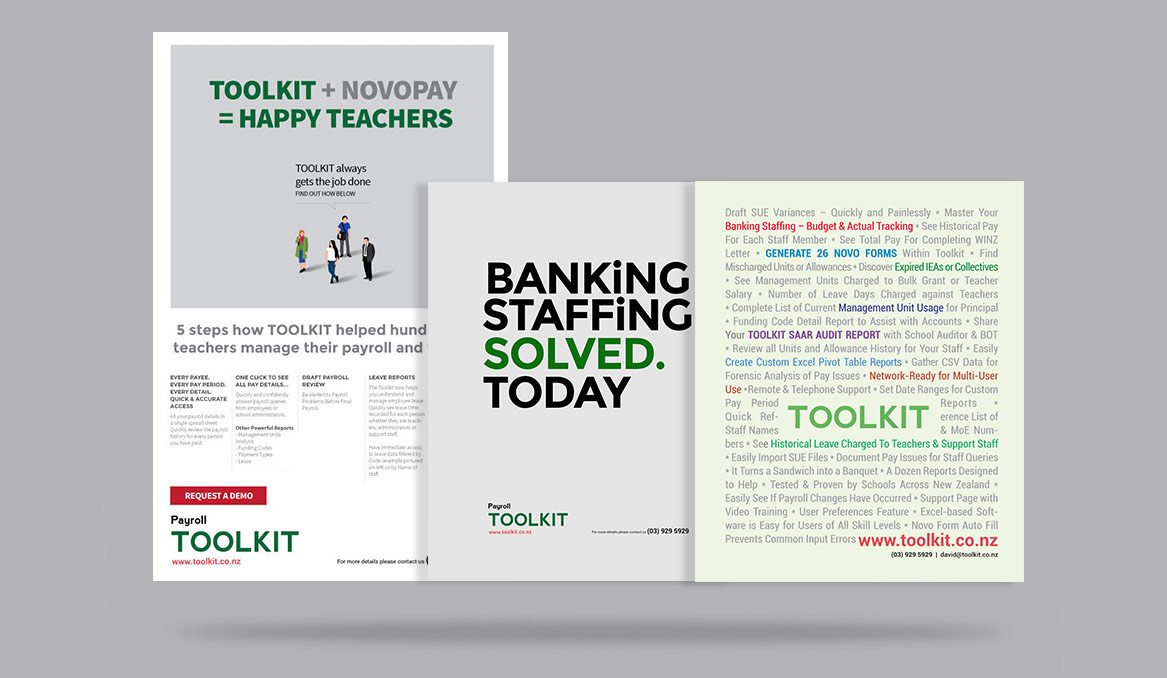 Toolkit Full page Ad
Toolkit is an accounting software that manages Payrolls. Dedicated to its niche audience it was already popular in New Zealand schools and institutions. To reinforce their image as a reliable and productive software we designed this ad to tell new users of all the advantages of having Toolkit as the one resource to get all their Payroll work done.
A clean cut ad that showed the features and functions that would help school admins do their Payroll work effectively, was conceived completely by us. Again we did not want to deter visual space for anything fancy since we were talking to an older audience who liked to read the facts. Toolkit did see a rise in 35% of new orders after the release of this ad.
Potomac Village Farmer's Market
The client came to us wanting an ad created out of nothing. They had an online store and were only doing EDMs and regular word-of-mouth advertising. Since they needed more customers to know of their farmers market that was taking place in Potomac Village, they were looking for ideas for a single magazine advert.
The concept of using a illustrative approach that would grab the attention of every user on the page of a magazine really worked. The client enjoyed working with us and vice versa. So within just a couple of days they had an advert that bought them good results.
Coastal Living Ad
This American Builders were already well-know for their build quality and projects. They wanted to reinforce the fact that with all the experience they had so far they were always there with the end-user in mind. To match their expectations and build exceptional quality homes that would last the test of time.
We created a very direct ad concept that build along the 4 pillars of DESIGN, BUILD, RENOVATE, EMOTION. The whole idea of showing a measuring tape was obvious but to know that Coastal Living was doing things with measured success came across very clearly with this visual concept.
The client loved this and used the same concept for their social media covers and also for their animated video ad.
anemptytextlline

Advertisement

anemptytextlline

Advertisement

anemptytextlline

Newspaper Advertisement

anemptytextlline

Magazine Ad Campaign

anemptytextlline

Advertisement

anemptytextlline

Magazine 1/2 Page Advertisement

anemptytextlline

Magazine Advertisement

anemptytextlline

Advertisement
I have ordered 5 if not more things and each and every time these guys display high professionalism, understanding of customer's needs and most of all great communication – which these days is a missing component in any business. If you are looking for quality then this is the design team for you! A+++++++++